Hon Janat Mukwaya, the Minister of Gender, Labour and Social Development yesterday signed a memorandum of understanding (MoU) with Al Hamli Nasser Bin Thani, the United Arab Emirates' Minister of Human Resources and Emiratization.
According to Hon Mukwaya, the main purpose of signing the agreement is to formalize the migration of Ugandan workers to the UAE in a bid to have a smooth and legal export of labour from Uganda to the UAE.
Hon Mukwaya yesterday noted that UAE hosts the highest number of Ugandan workers in the Middle East with over 40,000 who were recruited through registered recruitment agencies.
"Let me hasten to add on the onset, that the United Arab Emirates hosts the highest number of Ugandan workers in the Middle East, with over 40,000 who have been recruited through official, legal channels. We are also aware of some few others who are there irregularly. This meeting has been long overdue. But I am glad we are meeting today," Hon Mukwaya said.
While referring to article 5 of the MoU, Hon Mukwaya said that UAE employers will incur all the recruitment fees, something set to solve the problem of middlemen who have been taking a huge share of the recruitment and placement costs.
The Gender Minister also revealed that they are going to set up a committee in the next three months to ensure that continuous monitoring and evaluation is held.
"I would like us to set up the Joint Committee within three months of coming into operation of this MoU to make periodic reviews, assessment, and monitoring of implementation of the provisions of this MoU,"Hon Mukwaya urged.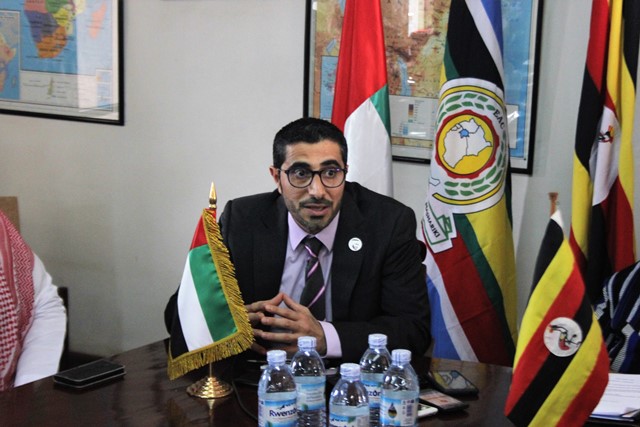 While speaking at the event, Minister Al Hamli Nasser Bin Thani said that Ugandan workers in UAE are hardworking employees whose bosses have praised for yielding good results.
Hon Mukwaya called upon the journalists who receive audios from Ugandans (mistreated) in UAE to get details of their exporter, so that the Ministry can arrest and charge those found illegally exporting workers.
During the event, the Minister also handed over gifts to the UAE team including Minister Al Hamli Nasser Bin Thani.